Delivery Information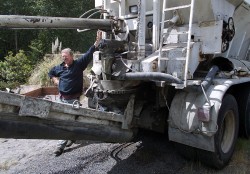 Our crew has loads of experience in the concrete and construction industry. Our goal is to provide you with quality fresh concrete delivered to your job site on time. Our drivers are the best in the industry, and we're very proud to have this team service you. They are professional, knowledgeable, dependable and honest.
Normal Business Hours
Monday through Friday, 7am – 4pm
Evenings and weekends by appointment
After Hours, Weekend and Holiday Pricing
Monday through Saturday, 4-6 pm:
$150 per truck
Weekdays after 6 pm:
Call For Pricing
Travel Charge:
$3.00 per mile in excess of 40 miles round trip
Unloading Time:
Ten 10 minutes per cubic yard to unload our truck, $2 per minute thereafter.